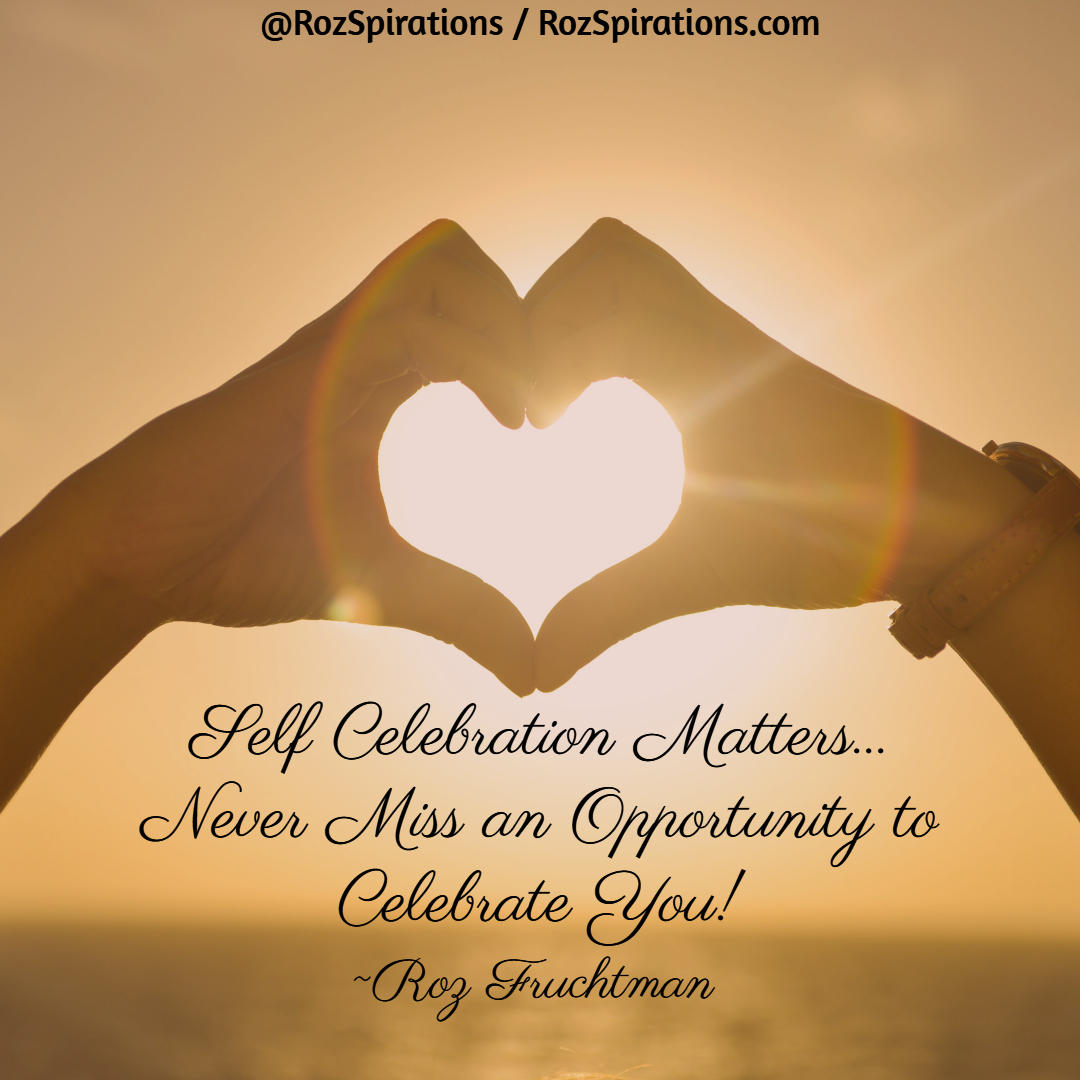 Updated December 17, 2021
"Self Celebration Matters: NEVER miss an opportunity to CELEBRATE YOU!"
~Roz Fruchtman
Life is difficult enough, YOU don't have to join the party against you 😉
As long as you are moving forward, no matter how slowly or how little, THAT is a HUGE reason to CELEBRATE YOU! In fact, even if you are not moving forward, as long as YOU ARE LEARNING… THAT is a HUGE reason to CELEBRATE YOU as well! Trust me, I've been there, done that. It makes no sense to be down on you, it feels crappy and does not change a thing. In fact, when you are feeling crappy, nothing gets done and that will make you feel even worse! SO ENJOY the journey and keep growing!
HERE'S A TRUE LIFE EXAMPLE FROM MY OWN LIFE
Right now I am working on a website relaunch. It's been like the elephant in the room for years, for one reason or another.
Finally I realized I just couldn't walk away from it, I had to do it, no matter what. While I want it to be a success, I'm OK if it's not. Don't get me wrong, I really do want it to be successful, but it's hugely important for me to see it through no matter what, in order for me to come full circle and move on!
NEVER worry about what others think IF YOUR FEELINGS are strong enough to do something. Most of the time others really have no opinion of what you or others are doing, more often than not it's all in our heads! So JUST DO IT! You might be surprised, passion is a funny thing, it can re-ignite at a moment's notice when you love what you are doing or your WHY is important enough TO YOU!
CELEBRATE THE SMALL STUFF… IT MATTERS!
I'm not recommending this, but… Sometimes it has to get too painful not to do something in order to do it and do it right! CELEBRATE each step and NEVER FORGET TO… CELEBRATE YOU!
"Self Celebration Matters: NEVER miss an opportunity to CELEBRATE YOU!"
~Roz Fruchtman
COMMENTS
I would love to hear your thoughts and comments on the subject. Please type them in the Comment Box below. I look forward to sharing more with you. Let's create a "society of inspiration!"
"THANK YOU" for taking the time to read this. Please click on one of the Share Buttons to share. I'd bet that more than one person needs to hear what I've said here, not because I'm so wise, but because I'm not unique in my feelings, thoughts and doubts. We all have a lot of company in the way we are feeling!
LET's CONNECT
JOIN US on Twitter at: @RozSpirations
http://www.Twitter.com/RozSpirations
JOIN US on Facebook at: @RozSpirations
http://www.Facebook.com/RozSpirations
LETS BE FRIENDS on Facebook
http://www.facebook.com/rozfruchtman
Warmly,
Roz Fruchtman
@RozSpirations
@PhotoshopHaven